Morning,
YAY! It's Friday - got anything nice to look forward to this weekend? Hope so anyway.
I've had a good week, it was Bank Holiday on Monday and Tuesday saw me enjoying a day out with a pal, I also fitted in a hair appointment, dinner with a pal and today I've a coffee meet with another pal - all go at the purple palace.
That said, you know me ..... I seldom miss the opportunity to craft so I'd like to share a make with you today. Think this one will end up being for a young (male) teen, whaddya think?
My card
The front and back of my card and front of my envelope
The inside of my card and the reverse of my envelope
12cm square white, 250gsm, card and matching sized envelope

Two pieces of white card cut to 10½cm square

One piece of black card, cut to mat at 3.2mm border

Snippets of card in white, kraft and black

Creative Expressions image stamped using Versafine onyx black ink

Kaisercraft distressed film edge stamped using Memento London fog ink

CAS-ual Friday sentiment stamped using Versafine onyx black ink
I'll be entering the above make for the following challenges:-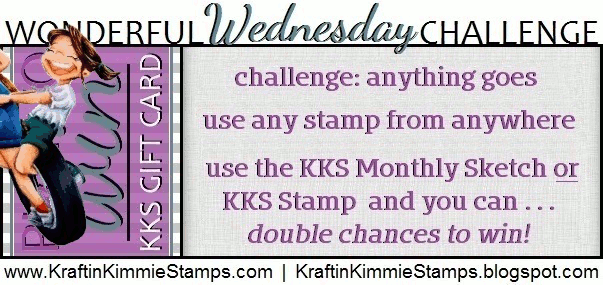 And a Christmas card make .. in an attempt to get ahead of the game in 2017! I thought it was time to get out my alcohol markers as they've been a bit neglected of late - in favour of coloured pencils! I also needed to try out some new cardstock from Xerox, Colotech 300gsm. I've been using Rymans 200gsm so this IS an upgrade though I have yet to try any watercolouring using it ..... the real reason I'm venturing away from Rymans.
My card
And a closer view of the image panel
The front and back of my card and front of my envelope
The inside of my card and the reverse of my envelope
Materials used:
12cm square white, 250gsm, card and matching sized envelope

White Colotech card cut to 11cm and 10cm square

Red 300gsm card cut to 11½cm square

Penny Black image stamped using Memento tuxedo black

Alcohol markers to colour

Paper Artsy sentiment stamped using Ranger Archival jet black ink

Stardust stickles to highlight the snow and Plaid dimensional gloss for Santa's eyeglass lenses
I'll be entering the above make for the following challenges:-
Woo Hoo, I got an honourable mention over at
The Male Room
for their challenge #57 - a colour challenge
This was my card, it's the second award this card has won, I'm honoured