The week's are flying by here, as you can tell from my post title! Hope you have something fab to look forward to this weekend.
We were scheduled to go out to dinner with friends last evening but one was ill, the three of us decided on a closer restaurant and didn't linger, hubby took a tempting morsel home for the patient - get well soon, Koreen.
I am so loving the mini cats and dog set so it will come as no surprise that I have an ATC to share with you which features one of each .. don't you just love it when you buy new stash and it makes you happy to use it? SOOOO much better than taking it out of the drawer at some point and wondering why the heck you bought it .. yep, done that too!
My ATC
ATC blank

Snippets of card in navy and white

On to the white snippet I stamped the Stampers Anonymous cat and dog using Memento tuxedo black ink

Derwent coloursoft pencils used to colour, blended with the Finesse blender pen (I LOVE IT)

Stampers Anonymous sentiment stamped using Memento tuxedo black ink

Tsukinekos gelly roll white gel pen used to doodle my "paw prints" and border
I'll be entering the above for the following challenges:-
Artistic Inspirations

- challenge No. 179 - ANYTHING GOES/KEEP IT SIMPLE

Inspiration Destination

- challenge No. 128 - ANYTHING GOES

Kraftin' Kimmie

- May 17th challenge - ANYTHING GOES

Crafting with an attitude

- challenge No. 27 - ANYTHING GOES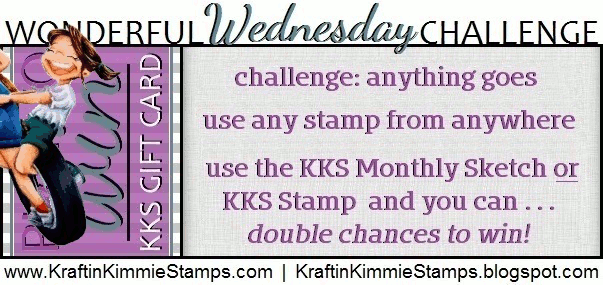 And, oh dear, I don't seem to be able to stop myself using these cats and dogs. I've always shied away from colouring "white" dogs but thought I'd have a go with this one - what do you think? Did it work? I lacked the courage of the "white dog" with alcohol markers but somehow the gentler technique of building colour with pencils gave me the look I was aiming for - my thanks to
Sarn
for sending me the Coloursoft pencils in the first place - you can see how much I am appreciating them.
My card
The front, back and inside of my card along with the front and back of my envelope
Materials used:
White C6/A2, 250gsm, card and matching sized envelope

Two pieces of white card cut to 5¼" x 4" and 5" x 3¾" + snippet for sentiment

One piece of DCWV "Old World" stack cut to 5¼: x 5" + snippet for matting sentiment

Stampers Anonymous dog stamped using Memento tuxedo black, including once on to post it which I then fussy cut out and used as a mask before stamping my

Studio 112 frame using Memento tuxedo black over the top of my (now masked) dog

Derwent coloursoft pencils and finesse blending pen used to colour image

TPC Studio sentiment stamped using Memento tuxedo black on to snippet, cut out and matted on to a snippet of the DCWV card

Diamond stickles used to highlight the dogs eyes and frame
I'll be entering the above for the following challenges:-
Corrosive Challenge

- challenge No. 5 - ANYTHING GOES

Crafting When We Can

- challenge No. 144 - BRIGHT AND COLOURFUL

Addicted to Stamps

- challenge No. 242 - MAKE YOUR MARK

Deep Ocean

- challenge No. 155 - OUR FURRY/FEATHERED FRIENDS

Aud Sentiments

- challenge No. 180 - ANYTHING GOES + A SENTIMENT